Baby Kangaroo System FSC is a system for sliding fixtures loaded onto two carriers left and right to mount and dismounting them from a machine. Baby plates can be smoothly changed over by the operation of a linear guide, rollers and a lifter.
When performing tool changeovers, you can slide both carriers left and right to access the inside the machine without interference.
The switch to external set-up reduces set-up time and also allows an operator to handle a greater number of machines.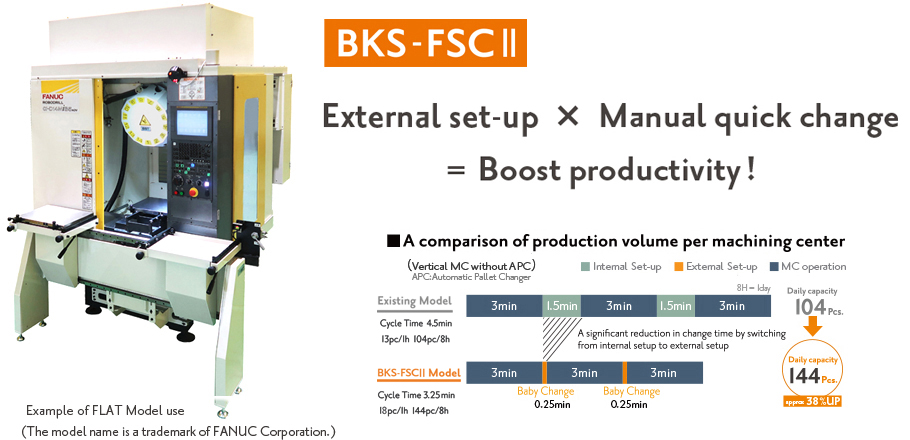 Features
1. Repetitive positioning accuracy of the same plate: 3μm
2. Manual change of 2 sets fixture plates.
3. Simple and smooth lift & slide exchange.
4. Standard drive source is air (0.5 MPa). This is operated using the
pneumatic-hydraulic conversion booster fitted to the mother base in the machine
(or the hydraulic unit in the case of Type H).
5. Baby plate seating check function
Hand lever type: visual inspection check
Electrical control type: confirmation switch detection
6.With additional machining by the customer, a baby plate can be used as a fixture plate.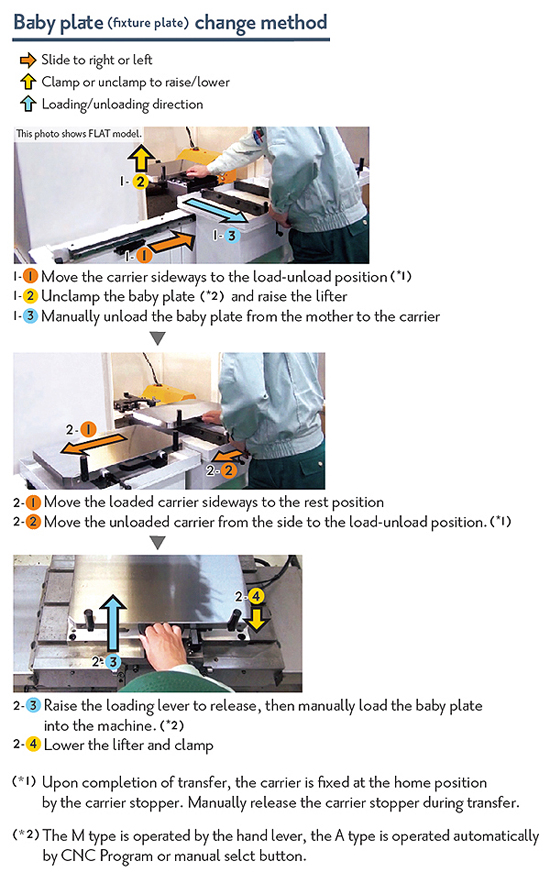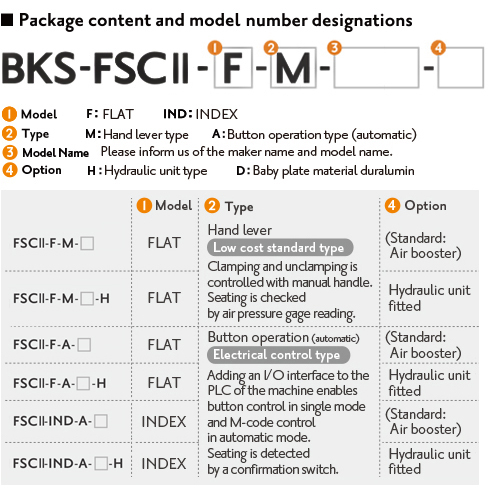 Standard systems include 1 mother base and 2 baby plates.
Standard baby plate size is X450mm × Y350mm.
The air operated hydraulic booster is fitted as standard. If faster operation is needed, the system can be supplied with a hydraulic unit as an option.
The INDEX model is only available for Type A.
The INDEX model is not supplied with an index head; customers need to arrange this themselves.

Order Specifications
INDEX model backside machining specifications
Special baby plate sizes
Example sizes:X700mm × Y410mm, X850mm × Y410mm,
INDEX model:X450mm × Y300mm

Baby plate topside machining
Baby plate material:
Standard:S45C Steel
Option:A7075 Duralumin (light plate type)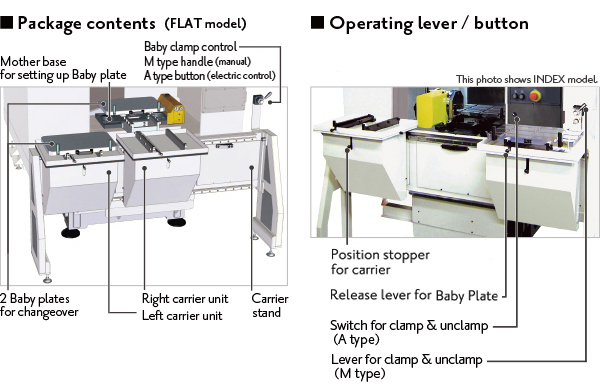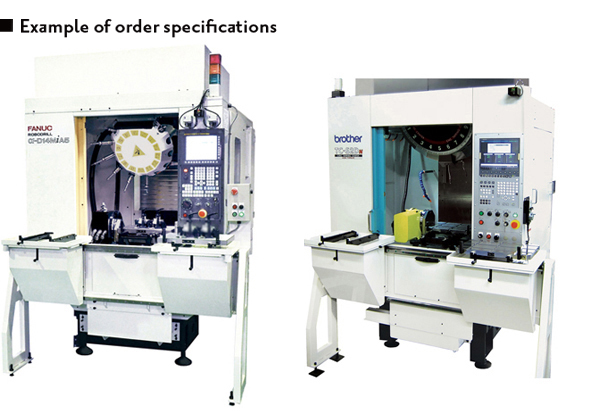 Left:
BKS-FSC-IND-A for ROBODRILL
INDEX/Backside-machining/
Button operation type, Air operated hydraulic Booster
(The Model name is a trademark of FANUC Corporation.)

Right:
BKS-FSC-IND-A for TC-S2D
INDEX/Button operation type/
Air operated hydraulic Booster
(The Model name is a trademark of BROTHER Industries,Ltd.)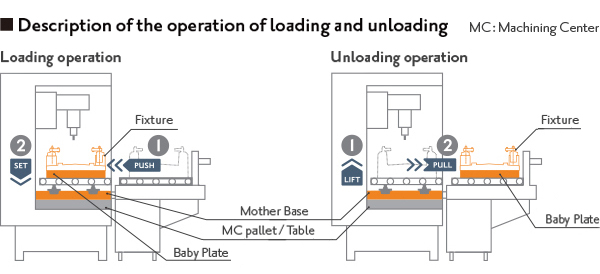 Loading operation:
Automatic clamping isperformed after inserting the Baby Plate using a manual slide.

Unloading operation:
The Baby Plate is pulled out using a manual slide after automatic unclamping and lifting up.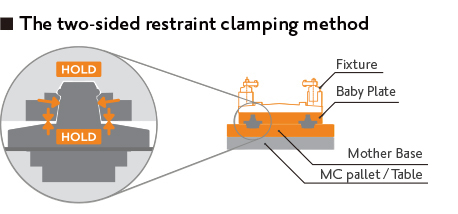 The two-sided restraint, where the tapered face
and end face are tightly adhered to each other, enables high-accuracy positioning and instantaneous clamping.